Lamb in the wood stove (Confit de souris d'agneau)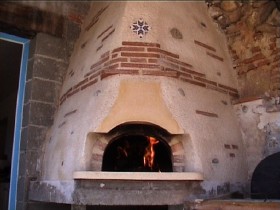 Southern France is wonderful at this time of year, a kind of midway between autumn and summer. The heatwave of July and August has passed but the days are warm. The colours of the trees and plants are at their best, the parched dryness of the summer forgotten.
My kitchen is a pleasure to work in and the produce in abundance. We have our first mushrooms of the season thanks to a little rain at the weekend, and the fig tree is full of ripe fruit. We still have some tomatoes in the garden and we are approaching the day when we will need to harvest our chilli peppers (but that will be the topic of a future post).
Meanwhile my wonderful bread oven has been working hard.
- place several souris (not mice, the souris is the little juicy bit around the bone at the bottom of a leg of lamb) in an earthenware dish (that can stand high heat)
- place a dozen whole garlic cloves (unpeeled) in the dish, add some juniper berries, a chopped onion, some rosemary and lots of salt and pepper
- pour beer (any kind) all over the lamb and fill to at least halfway up the dish, a little more as most of the liquid evaporates in the oven.
- place in a very hot wood stove (or normal oven heated to 250 degrees) for one hour, turning the meat halfway through cooking.
- squeeze out a clove of stewed garlic from its "shirt" and spread on fresh country bread, dunk in the beer sauce and eat with a piece of the melt-in-the-mouth lamb.
posted on: 20/09/2006 at 11:41 in category: [/cooking] with permanent link
---