Roulades de Poulet farcis aux trompettes de la Mort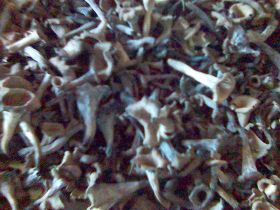 Mushrooms again. Millions of them. Normally this species (Craterelles cornucopioides) only comes every five years and we picked and dried huge quantities last year. Their re-appearance this year is therefore a pleasant surprise, albeit yet another symptom of world climate change and disorder.
Of course I was woken up at 7 in the morning with the farmer ploughing the field next door. They are harvesting the maize too, until late at night, so it is not as peaceful as one would expect at this time of year.
Meanwhile chicken rolls stuffed with trompettes
- soak the dried Trompette mushrooms in a little warm water for 20 minutes (same for fresh ones as this eliminates the grit and the strained water is used for the sauce)
- cut a pouch in the chicken breasts and stuff with the mushrooms
- roll in a very thin slice of smoked ham which holds everything together
- sprinkle with flour, brush with a beaten egg, and then coat with breadcrumbs
- place on a greased dish in a hot oven until browned and cooked through (about 25 minutes)
- reduce a little stock with some of the water from the soaked Trompettes (strain to remove any dirt and grit), some Madiera (or Port), some blueberry jam and fruit (in France you can buy these fresh in season and all year round in a jar or tin, other names include myrtilles, Vaccinium myrtillus, whortleberry), salt and pepper, thicken with a little fresh cream
- pour the sauce over the chicken rolls and serve with fresh pasta
posted on: 15/10/2006 at 12:56 in category: [/cooking] with permanent link
---