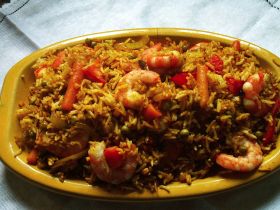 This is a great recipe for left-over rice which we often have available: every good household should have several woks and a Chinese Rice Cooker? These wonderful machines are incredibly cheap in any Chinese supermarket (don't buy one anywhere else, they cost a fortune), you just put in rice, salt and water and it cooks and stays warm all by itself. I still haven't worked out how they work (well with electricity obviously, you have to plug it in) - they automatically switch from "rice cooking" mode to "keep warm" mode somehow.
- fry some onions and pepper in ghee or oil
- grind up a spice paste with cardomom, cloves, chilli peppers, cinnamon, turmeric (haldi - important for yellow color, you can also use saffron) and garlic - add cooked rice, a tin of peas and the spice mixture to the pan
- stir and heat throroughly and add peeled (cooked) prawns
- serve with cucumber raita and mango chutney
There are endless alternatives and variations to this recipe, replace the shrimps with cooked chicken pieces, left-over meat, the remains of a curry, fish, or mixed vegetables. Mushrooms are good too but they make the rice turn to a sickly colour of grey so it's not so presentable. You can also use this dish in large quantities as the centre of a curry tiffin - decorate with chopped coriander, toasted almonds or cashews and chopped white and yolk of hard boiled eggs.
posted on: 16/01/2007 at 17:57 in category: [/cooking] with permanent link
---
I've been neglecting the posts here, too many things to do at the same time.
- chop some chicken breast (this recipe also works with pork fillet) into tiny pieces, toss in cornflour and fry in some oil until light brown and crisp, depending on quantity you may need to make two or three batches
- take out the cooked the chicken pieces and drain on some kitchen roll
- fry chopped onion and peppers in remaining oil, add a very thinly sliced carrot (I sometimes add some broccoli flowers too)
- once the vegetables are starting to get soft add a tin of chopped pineapple pieces and their juice, some tomato purée, soy sauce, vinegar, sugar and a little cornflour dissolved in some sherry
- cook for a few minutes until the sauce starts to thicken and add the fried chicken pieces
- serve with rice or as part of an oriental buffet.
Meanwhile a little progess on the book and still no sight of winter.
posted on: 16/01/2007 at 15:06 in category: [/cooking] with permanent link
---