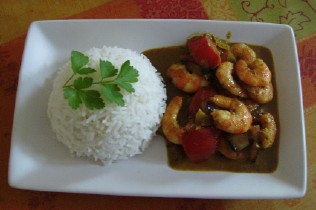 Have been extremely lazy with recent posts, some days there are so many things to do and so many things to say and just nothing materializes.
We've all been a little dogged by illness, a mixture of huge temperature differences and doing too many things at the same time. Indeed Winter finally arrived last week, we even had snow for a couple of hours and now we are back to Spring again with glorious sunshine and almost summer temperatures, lunching out on the terrace in January is hitherto unheard of, but we get frost at night so the termerature difference over a 24 hour period is sometimes over 20 degrees Celsius.
The wood stove keeps us warm and does most of the cooking - curries, casseroles and saucy dishes are obviously much easier than Chinese food (to get enough heat for the wok you have to really get the wood blazing).
Here is a basic Indian curry recipe which can be adapted to almost anything:
- fry some onions in ghee or oil
- grind up a spice paste with fenugrec seeds, coriander seeds, cardomom pods, cloves, chilli peppers, cinnamon, turmeric (haldi - important for yellow color, you can also use saffron) and garlic
- add the spice mixture to the pan and stir for a couple of minutes, make sure nothing burns
- add two chopped tomatoes and some coconut milk (if using uncooked prawns or shrimp add these too), heat until sauce thickens, otherwise wait and...
- add peeled (cooked) prawns for a few minutes just to heat through.
posted on: 03/02/2007 at 18:09 in category: [/cooking] with permanent link
---