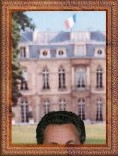 There is a new addition to the family. This little pest (right) has been creating havoc in my kitchen but, fortunately, she seems to be calming down and she is starting to uderstand about no-go areas.

Summer came and has now gone away again, we are underwater practically.

Exciting election day in France. Contribution (left) from one of my fans. Its entitled "Coming soon to every town hall in France". What was that German movie "Even dwarves started small..."? Herzog, or Fassbinder maybe?

Off on my travels again at the crack of dawn.
posted on: 06/05/2007 at 12:53 in category: [/humour] with permanent link
---