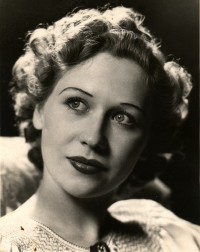 Been going through my mothers scrap book, fascinating stuff

She was Miss Paramount sometime before the Second World War and appeared in some films produced by Adolph Zukor. The war disrupted her movie career and she subsequently lied about her age practically all her life, going to great lengths to destroy any evidence of her real year of birth. So the dates are uncertain, it must have been 1937 or 1938.
At some stage there was an exhibition in London and my Grand Father must have come over from Malaya to organise the Malayan Pavilion.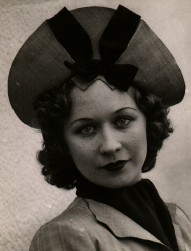 Here is one of the rather amusing newspaper cuttings that I found:
"Among the palm-nuts and pinapples of the Malayan Pavilion at the Exhibition will be found this young lady. She is Miss Rena Sands, of Richmond Surry. At 19 (?) her career has already been vivid enough - actress, model, mannequin, traveller. In films she played with Merle Oberon in "Over the Moon." She was one of the exclusive band of Grosvenor House showgirls. When Adolf Zukor, movie czar, visited England, Rena Sands was chosen as Miss Parmount. Her father Mr W. N. Sands, also at the Pavilion, represents Malay. Rena had six years in that country, speaks the language, and, at the Information Desk, knows all the answers."

Another cutting says:
"I took a friend just home from Malacca, into the Malayan Pavilion to sign the visitors' book. Pretty Miss Sands, whose father is in charge of the Pavilion, said a few words in the Malay tongue. My friend replied. The competition was too great for me, so I retired and left them to it, but not before I had noticed that Ivor Novello and Victor MacLagen had also discovered the most beautiful exhibit in the Malayan Court."
posted on: 23/01/2009 at 10:23 in category: [/magick] with permanent link
---