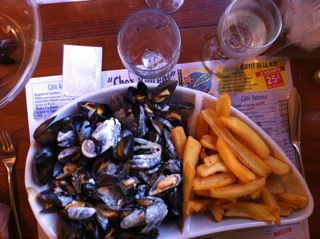 Vincent is the most amazing fishmonger in Léon, a small town on the Atlantic coast between Archachon and Biarritz.
But in addition to his shop, he has a restaurant in nearby Lit-et-Mixe.
The seafood buffet (fish soup plus as much seafood as you can eat) is real value for money, all his seafood and fish delicious (all cooked to order on the plancha), but the best is mussels in roquefort sauce with chips.
They don't have a website that I have found but your can go here for the phone number and location. The google map photo on this webpage is unfortunately pointing in the wrong direction so you need to do a 180° turn to see the restaurant which looks closed (I think the photo must have been taken in wintertime on a day when the place was closed).
I've been to this place several times now, it was always packed, so I recommend advance booking.
posted on: 07/09/2011 at 19:33 in category: [/cooking] with permanent link
---