Marinated turkey breast with stir fried Brussel sprouts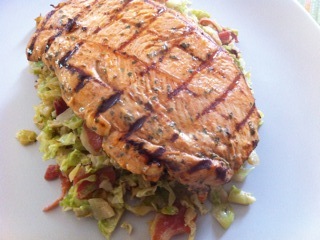 I just invented this one, it turned out rather well.
- Marinate turkey escalopes in a mixture of lemon juice, tomato paste, chopped basil and honey.
- Stir fry some chopped bacon or smoked ham, add some shredded Brussel sprouts, lower heat and cover.
- Now cook the turkey breasts on the griddle. Just for a few minutes each side until they are cooked through. Rotate once on the griddle if you want to obtain the pretty criss-cross pattern as seen in the photo.
- Add just a little cream to the Brussel sprouts
- Serve the escalopes on a bed of the vegetable and ham mixture.

I did a vegetarian variation of the Brussel sprouts recipe using very thinly sliced carrots instead of the ham/bacon bits, add salt.
posted on: 03/11/2011 at 10:20 in category: [/cooking] with permanent link
---