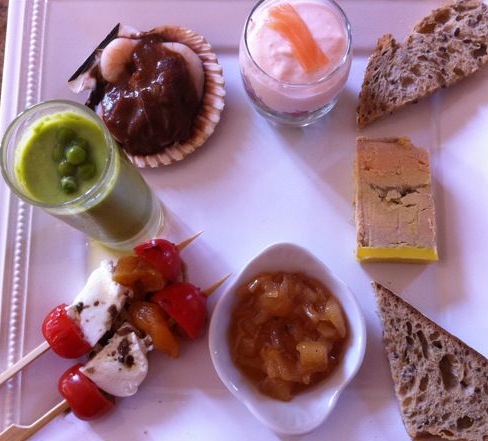 This worked out as a very light starter for our Christmas lunch

From left to right clockwise:

- Pea soup
you can see the recipe here on 27th November post. Add a few cooked peas for decoration
- Prawns in satay sauce
make a "quick" satay sauce in the blender with crunchy peanut butter, soy sauce, a crushed chilli pepper (or two), lemon juice and honey, pour over some cooked prawns and heat in hot oven for a few minutes until bubbling
- Smoked salmon verrine
Grate some cucumber, add salt and dry with kitchen roll to extract as much of their water as possible. Grate some radishes. Mix smoked salmon, fromage blanc and a little horseradish in the blender. Put a layer of each in a small glass, decorate with a ribbon of salmon.
- Foie Gras
- Pear chutney
Cook some chopped pear with sugar, vinegar and spices (star aniseed, cinnamon, cardamom, nutmeg). Boil on a high heat until thick and syrupy like jam. Allow to cool. Serve with Foie Gras
- Tomato and mozzarella sticks
There are endless combinations of little cocktail stick brochettes like this. I used cherry tomatoes, mozzarella cheese and a dried apricots. Drizzle with a little balsamic vinegar and olive oil.

posted on: 25/12/2011 at 11:55 in category: [/cooking] with permanent link
---