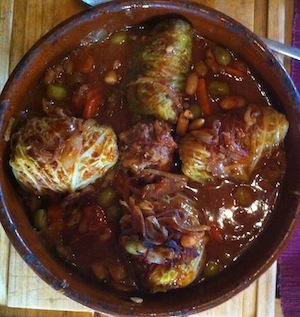 I went up to the top of the Pyrenees to a most beautiful region called Cerdagne. This trip back down in deep snow (we had snow chains on the car fortunately) was scary but beautiful.
I discovered this Catalan meatball recipe which I adapted with my Stuffed Cabbage recipe below. If you want to do the original Catalan recipe, just leave out the cabbage.
- Boil some cabbage leaves just for a few minutes ("blanching")
- Choose the biggest leaves to be stuffed.
- Mix together some sausage meat and minced beef (50/50), parsley, garlic, breadcrumbs, chili pepper, and two eggs.
- Put some flour on your hands and make some golfball sized meatballs.
- Fry the meatballs until brown on all sides.
- Stuff two cabbage leaves with the sausage meat mixture and roll up into little packets, if you're doing my version, if not just place the fried meatballs in an ovenproof dish.
- place in an ovenproof dish and set aside.
- Fry an onion and a few chopped carrots. Season well and add some chopped tomatoes or some tomato paste, and plenty of stock.
- Pour the sauce over the meatballs (or cabbage packets) until nearly covered.
- Add some olives - cook for 45 minutes or more (check carrots are cooked through) in a moderate oven
- Serve with a baked potato.
posted on: 05/02/2012 at 12:58 in category: [/cooking] with permanent link
---