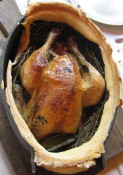 This is a recipe that I think originally came from Jean-Baptiste Reboul's book La Cuisinière Provençal written in 1910. If you can find this book anywhere, buy it. It starts with a whole chapter on the concept and theory of Pot au Feu.

This is dead easy. You need a cast iron of earthenware pot with a lid. Start by placing 40 or 50 unpeeled cloves of garlic in the bottom of the pot with a little olive oil. In French we call this "ail en chemise", garlic with its shirt on. Separate the cloves from the head of garlic but do not peel them. And yes, I said forty or fifty cloves of garlic, more if you want.
Place a chicken (with some lemon slices inside the cavity) on top of the "pearly bed" of garlic and place the pot under a hot grill in the oven (without the lid on) - this serves to brown and crisp the chicken on top.
While your chicken is getting crisp under the grill (just a few minutes) mix some flour and water to make a bread dough. Remove the pot from the oven when the chicken is nicely browned, stuff all the fresh herbs you can find around the chicken (rosemary, sage, parsley, thyme, basil, whatever you've got), add some salt and pepper, and place the lid on the pot. Seal the lid hermetically onto the pot with the bread dough all around the joint and place back in the oven (normal oven settings, switch off the grill) at 160 degrees for 1 hour and a half or two hours, more for a big chicken. The idea is to cook everything slowly inside the sealed pot and enable the garlic cloves to stew in the juices.
Bring the pot onto the table and break open the bread dough around the lid to release the fabulous aroma of garlic and herbs when you open the pot. The stewed garlic cloves pop out of their peel like butter, spread onto country style bread and eat with the chicken.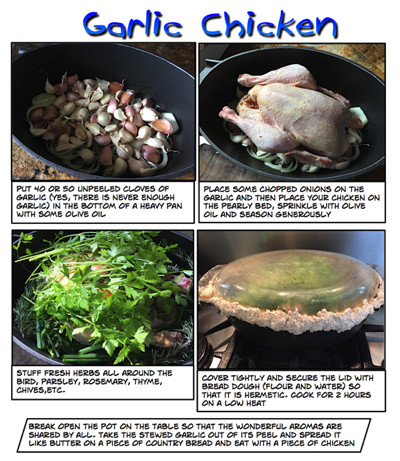 posted on: 01/07/2017 at 14:52 in category: [/cooking] with permanent link
---