I don't know if we each have a destiny, or if we're all just floating around accidental-like on a breeze, but I, I think maybe it's both. Maybe both is happening at the same time.
posted on: 11/04/2018 at 09:56 in category: [/magick] with permanent link
---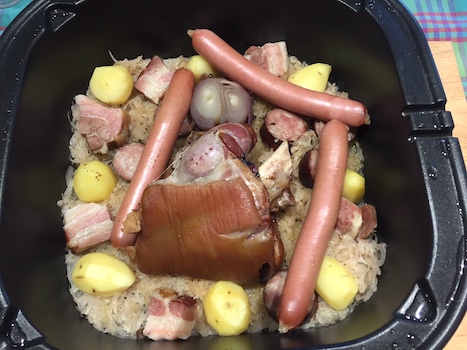 Sauerkraut or "choucroute" in French is a wonderful winter speciality (well actually I sometimes make it in the summer too but with fish and seafood instead of meats).
This is the (fairly classic) way I make it but there are endless variations and you should experiment using different kinds of sausages and pork cuts.

- place a knuckle of pork (smoked is best) in some stock with peppercorns, juniper berries, cloves and bay leaves. Simmer for 2 hours.
- in the bottom of a large earthenware pot or (better) a slow cooker, place a layer of sauerkraut. If using cooked cabbage, try to find it cooked in white wine (champagne is even better) but the uncooked cabbage is fine, you just need a longer cooking time.
- cover the sauerkraut cabbage with white wine and some of the stock from the knuckle, just enough liquid to cover.
- add a few crushed juniper berries and a red onion spiked with cloves.
- now place some small potatoes, the knuckle, some thick chunks of bacon, and different kinds of sausages (chunks of mortadelle, garlic sausage, even large herby sausages, but not the frankfurters, these go in later), .
- cover tightly and cook/simmer on a very low heat (100░) for two hours. Check seasoning but usually there is no need to add extra salt because the cured knuckle stock should be very salty. Check from time to time to make sure there is enough liquid, you may need to add a little more stock or white wine.
- 20-25 minutes before the end, add the frankfurters. If the cabbage in the bottom still seems very moist you can leave the lid off for the final few minutes to steam off any excess liquid.
- serve with mustard
posted on: 13/01/2018 at 12:59 in category: [/cooking] with permanent link
---
Steamed Pork fillet with leeks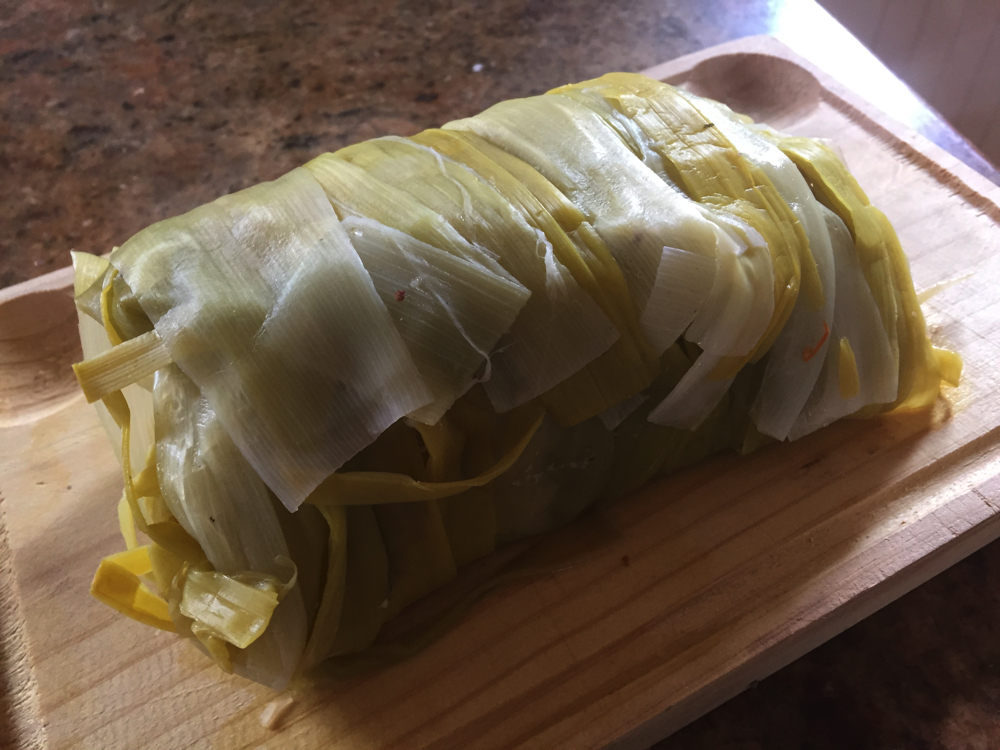 I found this in a book of idiot-proof - only a few ingredients - incredibly healthy - lose-weight recipes. It's remarkably tasty and simple.
- wash leeks, slice lengthwise and blanch them for a few minutes in boiling water until soft.
- trim a pork fillet of any excess fat and spread all over with a mixture of grain and smooth mustard.
- wrap the mustardy pork in the leeks (see photo left, click on it to zoom).
- steam it for 40 minutes.
- serve with a cold mustard sauce made from two or three different types of mustard mixed with "Petit Suisse" cheese (or fromage blanc) and a little lemon juice.

posted on: 05/01/2018 at 17:14 in category: [/cooking] with permanent link
---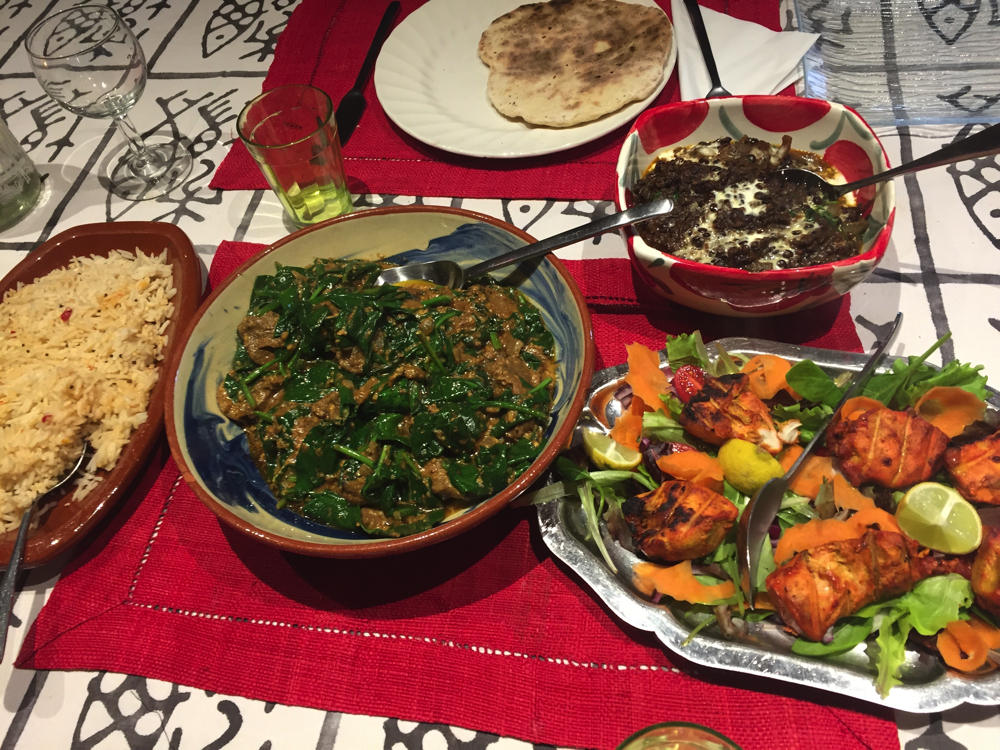 I haven't cooked an Indian meal for ages. We recently went to an Indian restaurant in Toulouse that we had enjoyed on a previous visit. Sadly we found ourselves in the midst of an office party, the service was awful and the food very disappointing.
So the next day I decided to do an Indian.
The secret to a good curry is, as we all know, ONLY USE FRESHLY GROUND SPICES. Once all the dried seeds are ground up, make it into a paste by adding garlic, ginger, fresh chillies and, if necessary, a drop or two of water.
Also use ghee (you can make your own clarified butter by heating a slab of butter and skimming off the froth on the top when it separates).
In the photo there is:
- sag gosht, lamb and spinach curry cooked in yoghurt and thickened with ground nuts
- dahl, green lentil curry cooked in coconut milk
- chicken tikka, marinated in paprika, lime juice and yoghurt
- chilli and coriander rice
- home-made chapatis, flat breads made from a mix of plain flour and chick pea flour with a little yeast and yoghurt.
posted on: 04/01/2018 at 18:23 in category: [/cooking] with permanent link
---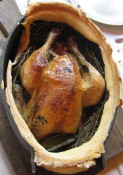 This is a recipe that I think originally came from Jean-Baptiste Reboul's book La Cuisinière Provençal written in 1910. If you can find this book anywhere, buy it. It starts with a whole chapter on the concept and theory of Pot au Feu.

This is dead easy. You need a cast iron of earthenware pot with a lid. Start by placing 40 or 50 unpeeled cloves of garlic in the bottom of the pot with a little olive oil. In French we call this "ail en chemise", garlic with its shirt on. Separate the cloves from the head of garlic but do not peel them. And yes, I said forty or fifty cloves of garlic, more if you want.
Place a chicken (with some lemon slices inside the cavity) on top of the "pearly bed" of garlic and place the pot under a hot grill in the oven (without the lid on) - this serves to brown and crisp the chicken on top.
While your chicken is getting crisp under the grill (just a few minutes) mix some flour and water to make a bread dough. Remove the pot from the oven when the chicken is nicely browned, stuff all the fresh herbs you can find around the chicken (rosemary, sage, parsley, thyme, basil, whatever you've got), add some salt and pepper, and place the lid on the pot. Seal the lid hermetically onto the pot with the bread dough all around the joint and place back in the oven (normal oven settings, switch off the grill) at 160 degrees for 1 hour and a half or two hours, more for a big chicken. The idea is to cook everything slowly inside the sealed pot and enable the garlic cloves to stew in the juices.
Bring the pot onto the table and break open the bread dough around the lid to release the fabulous aroma of garlic and herbs when you open the pot. The stewed garlic cloves pop out of their peel like butter, spread onto country style bread and eat with the chicken.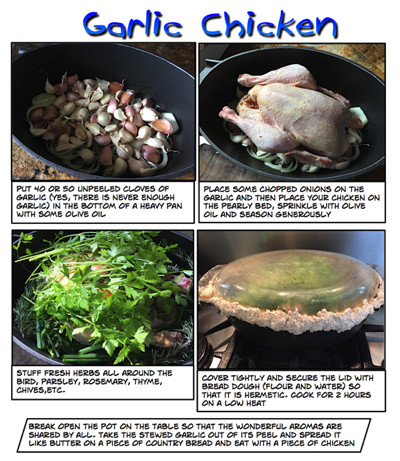 posted on: 01/07/2017 at 14:52 in category: [/cooking] with permanent link
---
| | | | |
| --- | --- | --- | --- |
| | | | |
| Duck roll with mushrooms, foie-gras, crispy nuts and maple syrup | Raspberries and pistachios with hibiscus, vanilla and yoghurt cream | Soft and crispy chocolate with coconut and cereals, salty praline and apricot sorbet | Peach fritter with almonds, passion fruit, and maize-curry ice cream |
posted on: 10/05/2017 at 00:00 in category: [/cooking] with permanent link
---
I have invented a new snack or fast-food. Someone should do a food-truck or themed restaurant around this concept.

The idea came from:
- an obsession with using up left-overs and little bits of this and that in the fridge (from where the Sunday night pizza tradition comes)
- my local supermarket selling good quality wraps

You need a non-stick frying pan with a tight fitting lid just the right size.

- Put your wrap into the (cold) frying pan.
- Add your topping (see below)
- Cover and heat for a minute on a high heat then put the heat right down, do not open the lid and do not heat on a high heat for too long or your wrap will burn underneath.
- Cook for two or three minutes

The secret is not to put too much topping, the wrap crust underneath has to get crispy not burnt and the ingredients on top should be cooked so if you are really hungry make two - too much topping won't work. For a more substantial snack, you can add an egg. In this case put your ingredients around in a circle and break the egg in the middle so it doesn't go walkies.
Suggested toppings (which I have tried) but you can invent your own, which is the whole point of this concept:
- Ham and blue cheese
- Smoked salmon, horseradish, sour cream and lemon wedges
- Cooked spinach leaves and feta cheese
- left-over Chili con Carne with parmesan
- just a little tomato sauce, mozzarella and anchovies (classic pizza)
- chopped tomato, goats cheese with a dribble of runny honey
- cooked chicken bits with smokey barbecue sauce or (better) Caribbean Jerk sauce

ENJOY!
posted on: 14/10/2016 at 16:16 in category: [/cooking] with permanent link
---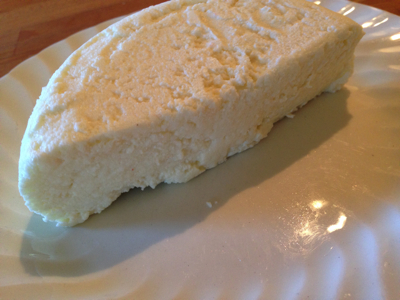 We went to a car boot sale and purchased, for 5€, a SEB (c'est bien) cheesemaker machine dating from the 1960s by the look of it.
Really cheesy orange and white plastic design, I don't think it had ever actually been used.
Anyway, after experimenting with a delicious goats milk cream cheese, we have just made a wonderful cheese with fresh milk from the Pyrenees (see photo). Half of this is "maturing" with a view to making a sort of camembert while the other half is getting eaten very quickly.
posted on: 25/08/2016 at 17:15 in category: [/cooking] with permanent link
---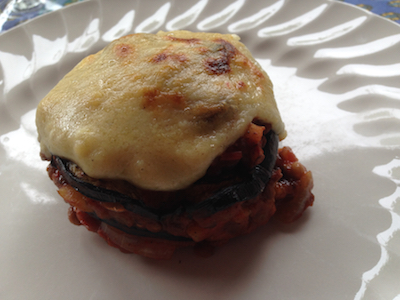 We've had some hot spells this summer and I've been doing a lot of Mediterranean food. This is a designer variation on the classic Greek dish inspired by a travel programme I saw on TV.
- Mince beef and lamb (50/50) and fry in olive oil with some onions
- Once the meat is browned add crushed garlic, a chopped chilli and some ground cinnamon, mix well for a few minutes and then add crushed tomatoes and a little red wine. Cook on a low heat.
- Heat a cast iron griddle (I use the ribbed side so as to obtain a pretty criss cross pattern on the vegetables but the flat "plancha" side will work also)
- Peel and chop a large round potato into 7mm (1/4in) slices. Brush with olive oil and place on the griddle. Once they are browned on one side turn them over
- Chop a large aubergine into similar slices (keep the skin on), brush with oil and place on the griddle with the potatoes. Depending on the size of your griddle, you may have to do all this in batches. Finely chop any left-over aubergines bits and add to the meat mixture.
- Make a bechamel sauce with salty butter and flour, add a little white wine and when it starts to thicken add some milk. Sprinkle ground nutmeg. Once the sauce is cooked through and quite thick, crumble in some feta cheese and parmesan, mix well until the cheese is melted. Let the sauce cool a little and add an egg, mix well.
- Heat the grill in your oven. As the moussakas are finished off under the grill in a hot oven, you can even cook the vegetables and meat in advance and allow them to cool, which makes the next step a lot easier
- On an oven proof plate you now assemble the individual moussakas. I use stainless steel ring moulds to keep the shape but this is not absolutely necessary providing you take care when adding the different layers. Start with the bottom layer of potato then add a little meat mixture then a slice of grilled aubergine then a little more meat and repeat the whole process.
- Pour over a little cheesy sauce and place under the hot grill until the cheese topping is browned.
- Serve with a salad (Greek obviously)

I have also done a vegetarian version of this recipe replacing the meat with cooked green lentils, delicious.
posted on: 24/08/2016 at 12:04 in category: [/cooking] with permanent link
---
Great loss of a real gentleman today and a great artist who, like me in the kitchen, never liked doing the same thing and re-invented himself permanently.

In the mid 70's I was working in an art house cinema in Wardour Street, one day we were showing Jean-Luc Godard's "One Plus One Sympathy for the Devil" when this angel came into the cinema. Her name was Jeanette, she said she was a dancer and she lived in a squat in Regent's Park.

I saw David Bowie for the first time that year, it was the time he was really playing up the bisexual thing, hanging on Mick Ronson's arms most of the time.

One night I'm at the Speakeasy with Ted Baker, Phil Lynott, Katy Vaughan and others and I see Jeanette on the dance floor erotically dancing with another girl. I catch up to her at the bar and ask if she remembers me, she says "Oh you just saw me in the papers, I'm going out with David Bowie", I say "No, the Godard movie in Wardour Street last year...". She was stunned and became suddenly humble. We talked a long while, then she was gone. I think Leo Sayer wrote a song about her. (Read more about the encounter with Jeanette by clicking here)

I met David Bowie at the EuroRock Festival in Belfort France in the 1990's. We had a cup of green tea together and he complained about awful English tea with milk in it, "must be even worse with French milk", and he was wearing a dressing gown. It was pouring with rain and the stage was slowing sinking into the mud and sliding backwards towards a lake. Bowie went on stage nevertheless and gave a great performance, some songs were included in the TV show I did, it was shown all over the world.
Back then I would pay in the cinema takings to Barclays Bank Regent's Street every morning where there was also an angel behind the cashier's desk, Fuzanna Wakhani, I wonder what became of her, and Jeanette of course. Then I met another angel in the cinema....but that's another ongoing story.
posted on: 11/01/2016 at 22:22 in category: [/music] with permanent link
---